Skio vs. ReCharge
June 23, 2022
by
ClickMage
You're a business owner running a Shopify eCommerce store looking for the best subscription apps to integrate into your website. Skio and Recharge are both excellent choices when it comes to subscription applications. These applications can help you create recurring revenue while also providing a tremendous amount of value to your customers by delivering the products they want on time and on a consistent basis.
We chose Skio and Recharge by looking at the app store rating, the apps' top features, the number of reviews, and other subjective characteristics. We hope this information will help you in your quest to find out which subscription app is the best for your Shopify business.
Skio: Overview
Skio is a Shopify app that integrates with your website to make selling subscriptions easier for marketers. Skio was launched on 27 April 2021 by Kenneth Davison. He is an engineer who worked at Pinterest and Hulu in the past.
Skio is a premium subscription service that builds on the success of ReCharge and other well-known platforms by improving the user and customer experience. Each subscription order generates an account for the customer, which allows them to log in without a password, removing the need to deal with annoying emails stating forgotten credentials.
The Skio platform also allows for group subscriptions and discounts, which increases customer retention by exploiting the natural urge not to raise costs for others when they agree to sign up. Customer subscriptions are not disrupted, and payment method data is not lost during the transition from ReCharge. What is Skio's greatest advantage? It makes generating and updating subscriptions far faster than the competitors by utilizing contemporary frameworks and React/Next.js technology.
Benefits
Increased Conversions
With a 1-click checkout, you can increase conversions by 72 percent (Shop Pay). Welcome, Shopify's new native checkout! UTM tags operate correctly as a bonus, and Pay Pal can be used as a payment method. In addition, with native checkout, direct ReCharge connections are no longer required.
Fewer Customer Tickets
Skio allows you to save up to 25% on customer tickets with passwordless login. The first time a consumer skips a refill is a significant step in their journey. If clients need to log in to skip, it can be a pain. People will lose faith and cancel. Skio overcame this problem by allowing users to log in without using a password (4-digit code by SMS and email).
Free access to analytics
Skio collaborated with Source Medium, a fantastic analytics platform, to fuel the analytics for all of our businesses. With Skio's executive summary dashboard, you will find all of the most critical business KPIs including:
Subscriptions that are currently active
Subscriptions that were canceled
Count of subscription orders
Current monthly recurring revenue
New monthly recurring revenue
Canceled monthly recurring revenue
The average order value for subscription orders
Access to new features
Each and every feature necessitates the creation of a theme (operationally impossible to pull off). However, Skio learned from their error and has a hosted subscription gateway. As a result, you can now receive new features without having to build a theme. Skio also leveraged cutting-edge technology such as React/Next.js/GraphQL (100x/10x/10x improvements in web development, respectively), which allows us to produce significantly quicker than our rivals.
Custom subscription boxes for clients
Skio enables you to build a seamless subscription box for your clients. You can add a minimum and maximum constraints when clients select the quantities of the products. The subscriber can log into their customer portal and manage all of their orders. They can also skip their next order if they still have enough products from the previous delivery.
Building a box in Skio is very easy. There are two different types of boxes you can choose from. A Single Box and a Box Group. Most merchants will use the Single Box as it is the most basic and straightforward to set up. The Box Group is a little more advanced and allows you to bundle multiple products together in the box.
SMS Subscription Management
SkioSMS is a transactional SMS-based subscription management platform. Before each order, subscribers are notified and have the option to change their charge date, swap their product, skip, or cancel their subscription. All texts are entirely free and are automatically triggered by subscription events (for example, a future charge), resulting in fewer support tickets.
Prepaid Subscriptions
Prepaid subscriptions allow subscribers to pay for all of their shipments in advance. For example, if a subscriber purchases a 3-month subscription, they will pay for all three months on the first order and then receive two $0 shipments in months two and three. This is a fantastic approach to increase customer retention while also locking in money.
Brands that work with Skio
Bev
Muddy Bites
MatchaBar
Krave Beauty
Stryx
Doe Lashes
Simulate
Backbone
Everyday Dose
Sunsoil, Remedy Organics
Investors that work with Skio
Y Combinator
MuteSix's Daniel Rutberg & Moody Nashawaty
Shaan Puri
Julian Shapiro
Sahil Bloom
Integrations
Klaviyo
Alloy
Attentive
Shogun
Postscript
Gorgias
Pricing
Skio only has two pricing plans, The Dog Plan and The Cat Plan.
Dog Plan
$400 per month with an annual subscription or $500 with a monthly subscription
1% plus a transaction charge of 20% (orders involving a subscription)
14-day free trial
Cat Plan
Create a unique bundle for your company. Businesses with a high number of payments or unique business structures can use this service.
Volume discounts are available (annual commitment)
Custom development
Personalized strategy advice from a dedicated strategy manager
ReCharge: Overview
ReCharge is a Shopify app that integrates with your website to make selling subscriptions easier for marketers. ReCharge was launched on 14 October 2014 by Oisin O'Connor and Mike Flynn.
Consider the last time you made an internet purchase of something edible. From skincare to dental hygiene, there's something for everyone. You were probably given the choice of paying full price or getting a discount by changing your purchase into a monthly subscription. As more firms realize that adding subscriptions for almost any item may quickly raise monthly recurring revenue or MRR, the adoption of this option has gained in popularity.
ReCharge simplifies the subscription process for you, while your consumers benefit from a rapid checkout, which allows them to sign up for a subscription with little more work than a standard checkout. ReCharge is simple to set up and customize, allowing you to build the right subscription alternatives for your business. This is, without a doubt, the best solution for most Shopify shops.
Benefits
Payment Methods
All major payment processors and methods are supported. Stripe, Authorize.net, Braintree by Paypal, and Shopify Payments are among the payment processors ReCharge accepts. Credit cards, Apple Pay, PayPal, Google Pay, SEPA Direct Debit, and iDEAL are also accepted as payment methods.
SMS Subscription Management
Customers frequently need to make changes to their purchases, such as adding to them, updating their payment information, or changing their shipping address. With RechargeSMS or a client portal, they make it simple for them to do so. Subscribers may easily alter their orders using RechargeSMS by sending a text message to include a one-time product, swap goods, modify their delivery address, and more. You may select from pre-built themes for your customer portal or develop a totally customized experience from scratch to match your brand.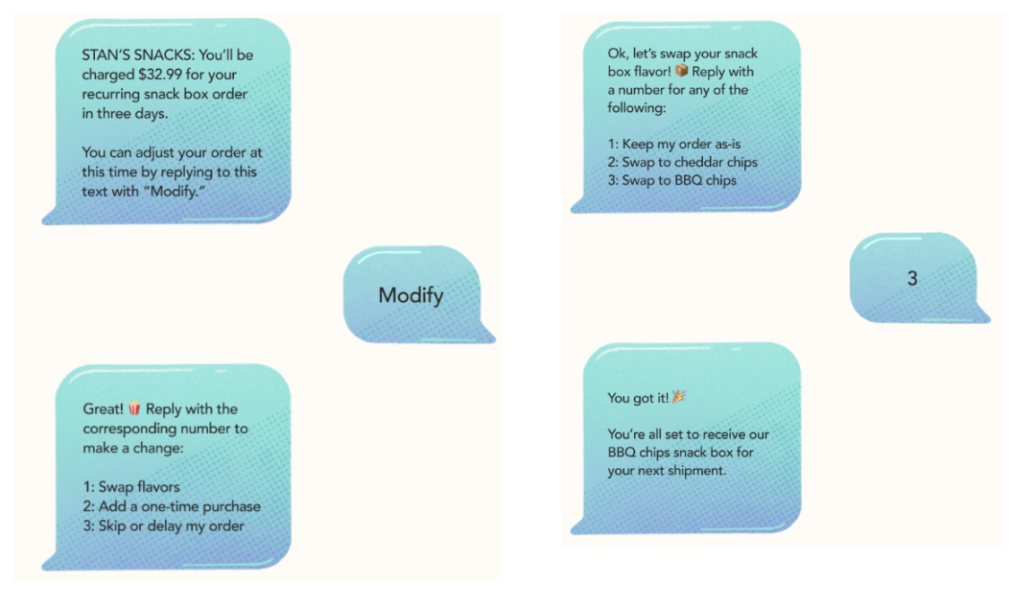 Full subscription flexibility
Allow clients to reschedule or skip delivery. Your consumer may just opt to forego this month's shipment. Subscription cancellations occur as a result of not understanding how to do so. When your subscribers try to cancel, make it easy for them to miss or reschedule a delivery.
Allow clients to change the items in the subscription. Clients will occasionally cancel a membership when they really want to test a different product.
Automatic retries and dunning when a payment did not go through can help you increase payment conversions. When a charge is denied, Recharge will automatically attempt it at intervals you choose. ReCharge can also advise your customer that the attempted transaction was unsuccessful and seek to obtain new payment information from them.
Detailed Analytics
With Skio's analytics package, you can keep track of all of your critical performance metrics. Skio will show you detailed sales reports, refund totals, average order values, churn rates, and much more. They will even assist you in forecasting future income using previous data! All of the information you need to manage and develop your company is in one location.
Recharge can inform you why your customers canceled, how much of your churn is due to unsuccessful charges, how many customers are missing the delivery, and how many are switching to different items.
What are the best-selling items? What are the ones that aren't? Which one has the highest rate of recurrence? Which ones have the most churn? With a single glance at our product analytics dashboard, you can get the answers to all of these questions.
Skio provides a robust set of APIs that allow you to customize your subscription service completely. Create your own procedures, such as post-purchase upsells, build your customer portal precisely as you want it, and query store performance data for in-depth analysis.
Integrations
Klaviyo
Gorgias
Yotpo
Shipstation
Loyalty Lion
Attentive
Pricing
ReCharge has two pricing plans available. A standard and a pro package.
Standard Plan
Free to install
1% + 10¢ per transaction
Subscription Billing
Order Management
Merchant Tools
Payment Management
Basic Analytics
Pro Plan
$300/month
1% + 19¢ per transaction
Subscription Billing
Order Management
Enhanced Customer Portal
Merchant Tools
Payment Management
Enhanced Analytics
Skio vs. ReCharge: Features
Both Skio and ReCharge have some incredible features for Shopify merchants. Let's take a closer look at the features that both of these great subscription apps have to offer.
Monthly Cost
| | | |
| --- | --- | --- |
| | Skio | ReCharge |
| Free Trial | Yes (14 Days) | Yes |
| Free Version | No | Yes |
| Monthly Cost | $500 per month | $300 per month |
| Annual Cost (Paid Upfront) | $4800 annually | $3600 annually |
ReCharge is the winner when it comes to the monthly cost because it has a free version for smaller businesses and a pro version for medium to large companies. Skio only has a 14-day free trial, and after that, $500 per month, which most smaller businesses won't be able to afford.
Transaction Fees
Skio has a transaction fee of 1% + 20¢ for each subscription, whereas ReCharge has a transaction fee of 1% + 10¢ on the Free Plan and 1% + 19¢ on the Pro Plan, which is both less than Skio.
Migrations
ReCharge does not support migrations of more than 10,000 subscribers, which can be a problem for big businesses with thousands of clients. Skio does, however, offer migrations of more than 10,000 subscribers, which makes it appealing to large companies. Multiple companies migrated from ReCharge to Skio, with some being over 10,000 subscribers.
1-click checkout with Shop Pay
Skio offers native Shopify checkout that can increase conversions up to 72%. ReCharge does not offer a 1-click checkout with Shop Pay on the legacy app. However, it is available on the native app.
Hosted subscription portal
Skio automatically gets new features for free without needing theme development. ReCharge uses Liquid and requires theme development over time to receive updates. The customer interface is hosted by Recharge and will not inherit any of your store's designs or updates. Embedded in the platform storefront - The customer portal is integrated into your Shopify theme and inherits its styling, logo, and menu. Skio is definitely more convenient when it comes to the subscription portal.
SMS subscription management
Both Skio and ReCharge offer excellent SMS subscription management. Both apps allow you to get reminders and easily modify orders. Both apps allow you to swap products and add one-time purchases with the SMS subscription management. You can also skip or reschedule orders on both apps.
Integrations
Both apps offer a variety of different integrations. Why are integrations so important? Integrations enhance the functionality of your current system by linking it to third-party apps and giving features that enable you to automate and perform a wide range of tasks while also improving the overall efficiency of your business.
| | | |
| --- | --- | --- |
| Integrations | Skio | ReCharge |
| Klaviyo | Yes | Yes |
| Alloy | Yes | No |
| Attentive | Yes | Yes |
| Shogun | Yes | No |
| Postscript | Yes | No |
| Gorgias | Yes | Yes |
| Yotpo | No | Yes |
| Shipstation | No | Yes |
| Loyalty Lion | No | Yes |
Prepaid subscriptions
Both Skio and ReCharge offer prepaid subscriptions. Prepaid subscriptions are essential because it is easy to predict revenue – Payment is made in advance to your firm, making it easy to know how much cash you have on hand. This results in more precise financial forecasts and a consistent cash stream.
Minimum or maximum number of subscription renewals
Both Skio and ReCharge does not have a minimum or maximum number of subscriptions that have to be met each month. This is an essential feature to make sure all businesses can use these apps, whether they are big or small.
Free shipping for subscriptions
Skio offers free shipping to subscribers. ReCharge does offer free shipping to subscribers on the legacy app. However, it is unavailable on the native app.
Multi-currency support
ReCharge does not offer multi-currency support on the legacy app. However, it is available on the native app.
Support
Both Skio and ReCharge have excellent support. Skio has an average response time of about 10 hours, and ReCharge has an average response time of about 8 hours which makes ReCharge the winner of 24/7 support.
Retry failed charges
Both subscription apps give you the flexibility to set automatic retries when a payment does not go through. This can help you increase payment conversions. When a charge is denied, You can customize the set retry intervals, maximum retries, and cancel after a certain number of retries.
Reviews
Skio and ReCharge both have excellent reviews on the Shopify App Store. Skio only has a total of 84 reviews in total while ReCharge has 1,196 reviews. Skio has an average score of 4.9, while ReCharge has an average score of 4.8.
Keep in mind that Skio was only launched in April 2021, and ReCharge was launched in October 2014.
Skio or ReCharge? Which subscription app is better for you?
Looking at the benefits and features that both of these apps offer us, we know that ReCharge is a much player in the industry and has been for much longer. Skio is a new, young, and innovative subscription app that looked at all previous subscription apps' problems and fixed them.
Skio has some massive clients with many active subscribers, which they are very transparent about, while ReCharge also has a few large clients. It is a lot harder actually to find them and know who they are.
In terms of the features offered by Skio and ReCharge, I would say Skio solves more problems and has more benefits, including increased conversion rates, fewer customer tickets, free access to analytics, access to new features, custom subscription boxes, SMS subscription management, prepaid subscriptions and more. While ReCharge also offers most of these benefits, they lack some of the newer technology that Skio uses, such as the 1-click checkout and advanced box builder.
If you're running a small to medium-sized business, I would recommend going for the ReCharge Free Plan just because it would not cost you anything, and you can start to learn how subscription apps work. If you're running a medium to large business, I would recommend paying the extra price and going for Skio.
---